We value our patients' experience at Klaes Clinic. If you are currently a patient, please feel free to complete the following Client Experience Questionnaire. The Questionnaire is in Adobe Acrobat format, and requires the free Acrobat Reader to view.
Download & Print Questionnaire
Dr. Chris Klaes and Dr. Marian Klaes
---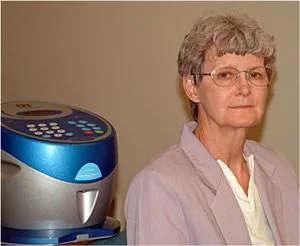 Janet Stamper patient for 4 years:
"Following my recent surgery, aggressive chemo treatment were prescribed. My body was full of toxins from the chemo and radiation, and Dr. Marian recommended the EB treatment to eliminate the toxins and pain. She was right. It works. I highly recommend it."
"When I first came in here I could hardly walk. Dr. Chris recommended the DRX. I was apprensive at first but by the third treatement I was actually looking forward to it. It has made a world of difference. I recommended it to my sister."
Dennis Simpson